👋Hi there! I share a weekly update on ways to be a better marketer, brand-maker, team-builder, and person. If you enjoy this, you can share some love by hitting the Substack heart button above or below.
I've found comfort these past few weeks in a book I've never read: Marie Forleo's latest self-help book about overcoming creative obstacles.
I cannot vouch for the book itself. But I can say its title makes for a good mantra in challenging times:
Everything is figureoutable.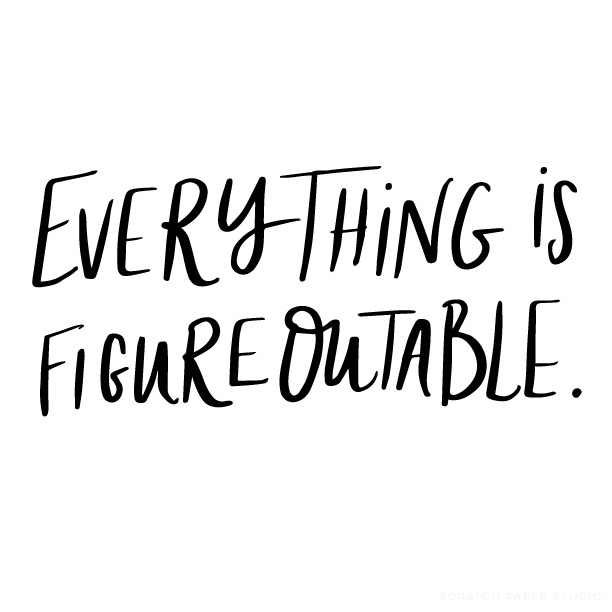 I've appreciated the chance to figure this out along with you all. Your encouraging notes and ideas have been incredibly helpful.
If I can give anything back to you, please let me know by replying here or emailing me at hello@kevanlee.com anytime.
Wishing you a healthy and positive week,
Kevan
---
❶
Riding the waves
When I think of the past few weeks of marketing in times of corona, it's as if someone has thrown a giant rock — kerplunk! — into the calm waters of the status quo.
We're wet. We're rocking.
Waves are rippling from the center.
The waters will settle. Crises always happen, and they always end. But we're still quite close to the initial splash, and we're still bound to experience more waves and more ripples.
This is the metaphor I'm using with my work at Buffer, to think of the coming weeks in terms of waves. We've felt the splash. We'll feel many more as things rebalance and eventually re-accelerate.
The key to riding the waves is to be prepared to move when the next wave comes.
Last week, I talked about some of the ways that B2B businesses are figuring out how to make it through these tricky moments. To recap:
Overreacting is okay. It's preferred, even. You'll regret under-reacting far more than you will overreacting.

What worked three weeks ago may not work today.

Test new value props and messaging.

Forecast a baseline, bad, and worse scenario.
In the coming weeks, we're expecting more waves. We've seen the initial splash of social distancing and its impact on travel, hospitality, tourism, restaurants, events, and more. The coming waves might be related to supply chains or unemployment. Some industries might feel the waves more than others.
The best way we can be prepared is to stay watchful of the numbers, nimble with our strategies, and customer-focused in all of our efforts.
Here is an inside look at a few of the things we're working on now.
Forecast for April (then re-evaluate)
Below is a simple spreadsheet I put together that looks at our week-over-week performance on some key metrics.
You can make a copy of the template and use however you'd like.
This spreadsheet tracks key metrics relative to a pre-corona baseline and a bad/worse scenario.
Baseline is the old conservative levels you previously were aiming for.

For the bad scenario, bring down your baseline by 20%.

For the worse scenario, bring down your baseline by 40%.
Test and learn with your messaging
This past week, we spent time coming up with a COVID-19 landing page and customer relief package. While that was happening, we also kicked off some messaging tests to see if new value props might resonate stronger with our audience.
Our control is "Build your audience and grow your brand."
I was curious to test:
Save money

Adapt and thrive

Connect with your audience

Re-focus on organic social media
To run these tests, I put together a few quick LinkedIn ads (since we're B2B). I may test on Facebook / Instagram also, if volume isn't high enough to get fast results on LinkedIn.
Here's a quick example of a website I came across the other day that has already shifted its messaging on the homepage:
Setting Q2 goals
Don't.
Or at least, set them, knowing that they may need to change at the end of April. As an industry, we are re-learning everything we previously learned about how to market our products. Many teams are operating month-to-month, if not week-to-week because their customers' needs are changing rapidly.
Keep this in mind if you're setting goals for the next three months.
We started a Q2 goal-setting process last week, hoping to keep these principles in mind.
Buffer's waves
I shared a few stats in last week's email, and I thought I'd do the same again here. These are monthly views of trial starts, traffic, and search for Buffer. I feel very fortunate that things have begun to restore for us — although, as you can see from the trial start graph at the bottom, we are still riding some waves at the moment.
via Culture Amp
We use Culture Amp for team surveys and performance reviews at Buffer. We've paused all performance reviews for the time being (those are quite stressful even during non-stressful times), and we're focusing quite a lot on surveying the team often.
Culture Amp put together a survey template specifically for COVID-19. It's awesome.
Here are some of the questions (employees answer on an agree/disagree scale).
I have confidence in my company's response to the COVID-19 Pandemic

My company is making sufficient adjustments to deal with COVID-19 Pandemic

My company is supporting employees during the COVID-19 Pandemic

The leaders at my company are appropriately visible/accessible during the COVID-19 Pandemic

I believe the leaders at my company are making effective decisions regarding the COVID-19 Pandemic

We are receiving timely communications from my company about the COVID-19 Pandemic

I know where to find my company's most up-to-date COVID-19 Pandemic policy

I understand my company's most recent policy for [travel/flexible working/quarantine/reimbursement etc.]

We are adapting well to changes in work conditions (i.e. remote work)

I am confident in my company's ability to support our customers throughout the COVID-19 Pandemic Role

I feel safe carrying out my role during the COVID-19 Pandemic
We use Culture Amp to run the survey, but you could also adapt this to send out however you want at your company.
❸
What's made me smile
🐶🐶🐶🐶🐶🐶🐶🐶🐶🐶🐶
Dogs.
Here are some favorite pics and videos I've bookmarked over the years.
---
Thanks so much for reading. Have a good and healthy week.
— Kevan
P.S. If you liked this email and have a quick moment, could you click the heart button below? It'd mean a ton to me and might help surface this newsletter for others. Thank you!